The impact of Agritech beyond Singapore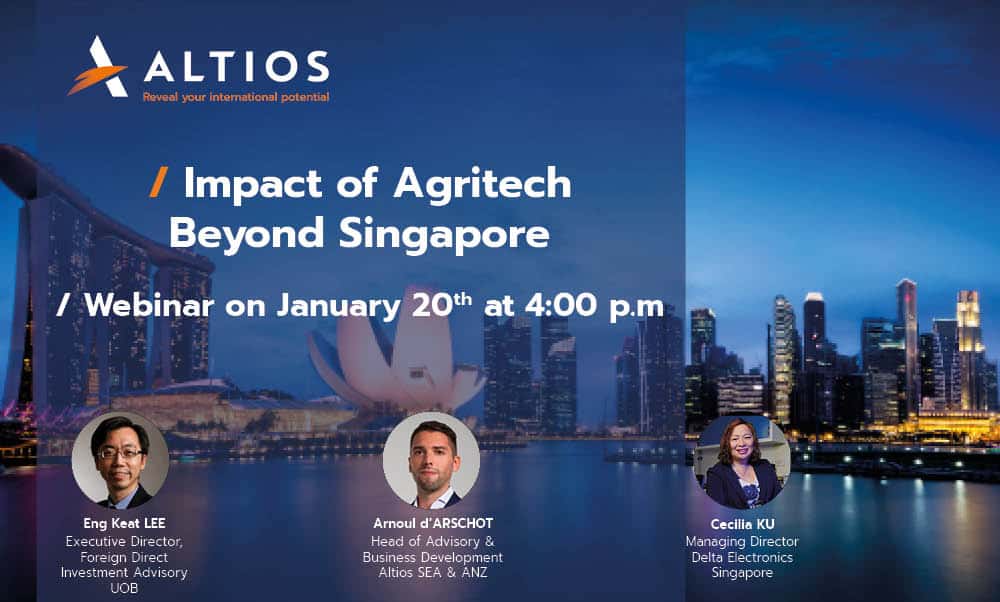 January 2022
Altios, accompanied by Delta Electronics Singapore and UOB, is organizing a webinar on the impact of Agritech beyong Singapore.
---
Click on the link below to watch the replay of this webinar: https://attendee.gotowebinar.com/recording/5226567426062605315
---
Governments around the world have realized the importance of creating sustainable food sources internally. Technology & innovation shall be the main driver.
Join us for a webinar & fireside chat with the industry experts on the landscape of Agritech beyond Singapore, support in market connectivity for your regional expansion and a case study on integrating technology into sustainable farming
Agenda :
4:00 p.m – Landscape of Agritech in the region, Altios
4:10 p.m – Drivers of transformation in Asia food & agriculture sector, UOB
4:20 p.m – Case study on smart plant & building automation solution, Delta Electronics Singapore
4:30 p.m – Fireside Chat
4:45 p.m – Q&A
The webinar took place on January 20th, 2022 from 4:00 to 5:00 p.m.
Welcoming:
Lee Eng Keat, Executive Director, Foreign Direct Investment Advisory – UOB
Cecilia Ku, General Manager – Delta Electronics Singapore
Arnoul d'Arschot, Head of Advisory & Business Development SEA & ANZ – Altios Group
Looking to move into new international markets ?