Doing business in China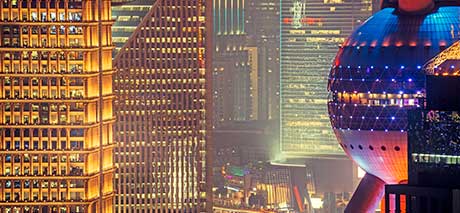 China is changing. Between 1978 and 2015, the country pulled itself out of poverty and rose to become the second most economically powerful country in the world.
China is changing. Between 1978 and 2015, the country pulled itself out of poverty and rose to become the second most economically powerful country in the world. At the same time, according to the World Bank, China's share in the world GDP has gone from under 4% to 18%. Its exports in the global economy have also risen from 4.3% in 2001 to over 13.8% in 2016.
In 2017, China's GDP was set to grow 6.9%, but the country also faced the challenge of an economic transition—going from a model focused on production and exportation to a more long-term approach based on consumption and services.
Today, the Chinese market is more competitive than ever while remaining accessible in a wide range of sectors. In 2016, China was ranked third of all countries to attract the most foreign direct investment (FDI). Since last June, Beijing has reduced the list of restrictions on FDI in free-trade zones. However, French investment in China does not yet feature amongst the top 10 foreign countries, such as Germany, the UK, and Luxembourg. The market share for French companies, which was 1.6% in 2016, remains three times less than that of Germany. Both countries have many opportunities left to explore, especially in sectors like renewable energy, waste management, consumption, hi-tech, health, tourism, culture, and more.
The middle class continues to grown in China. In fact, China's appetite for authentic, quality foreign products is growing, and western companies have reputable expertise in these domains. In particular, China's cross-border eCommerce has risen 34% every year for the last 5 years, and is set to increase a further 16% by 2020. In 2017, on Singles' Day (November 11), Alibaba calculated over $25 billion in revenue for a single day.
The growing Chinese market has become a critical issue for foreign companies of all types and sizes. But developing one's business on the market can be an insurmountable challenge for many western companies, many of which aren't taking advantage of local opportunities. ALTIOS International can provide all the tools needed thanks to our local team and regional expertise—key in helping make your investment projects in China a success.
Emmanuel Macron headed to China in early January 2018. He is the first European leader to visit the area since the 19th National Congress of the Communist Party of China—symbolizing the start of a new strategic partnership between the two countries. Despite concerns about a trade deficit for France in relation to China, as well as protectionism in the Chinese, European and French markets, both countries have mutual interests and many opportunities to explore together.
France remains one of Chinese tourists' dream destinations, thanks to its "romantic" image and many attractions. Chinese tourists are more apt to travel individually in search of unique experiences. In fact, over 2 million head every year to France, whose goal is to attract 5 million by 2020.
As well, Chinese investments in France need to be seen as an opportunity as opposed to a threat. These investments have helped to finance projects, stimulate the market and create jobs in France, including in companies like Huawei, Haier, Fosun, Lenovo, and Bluestar. Chinese companies must adapt to local contexts, whether these are regulatory, economic or cultural. They also require guidance and advice from the French, without prejudice or undue fear.
Looking to move into new international markets ?