International Week: expert talks and webinars for Italian companies to develop internationally.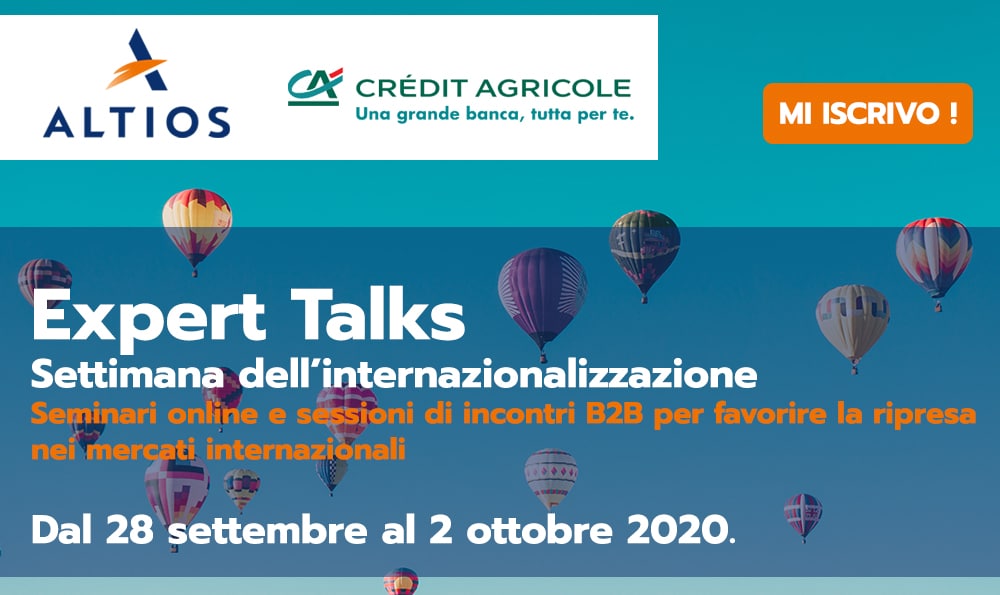 September 16th, 2020
Are you an Italian company willing to develop your activity ? Do you need to deepen your knowledge of the global markets? Altios Italy in partnership with Crédit Agricole Italy organized a new session of expert talks and webinars last week:
From Monday 28th September to Friday 2nd October 2020
To watch the Replay of our 3 webinars, click on their link:
"Le dinamiche di internazionalizzazione ai tempi del Covid-19: gli strumenti per favorire la ripresa"
"Le gare d'appalto in Francia: tendenze e consigli per una partecipazione efficace"
"Operazioni di crescita esterna: le opportunità all'estero"
Altios Italia e il gruppo bancario Crédit Agricole Italia hanno il piacere di inviarvi all'evento online "Settimana dell'internazionalizzazione", che si terrà nei giorni dal 28 settembre al 2 ottobre 2020.
La settimana si svilupperà attraverso un ciclo di seminari online, intervallati da sessioni di incontri B2B a cui possono prendere parte imprese di ogni settore, per avere l'opportunità di discutere di progetti o problematiche con esperti attivi nei maggior mercati mondiali.
Per partecipare basta cliccare sul tasto "MI ISCRIVO", vi contatteremo in seguito per fornirvi il programma dettagliato e organizzare gli appuntamenti B2B.
Looking to move into new international markets?