A word from the Partners – Patrick Ferron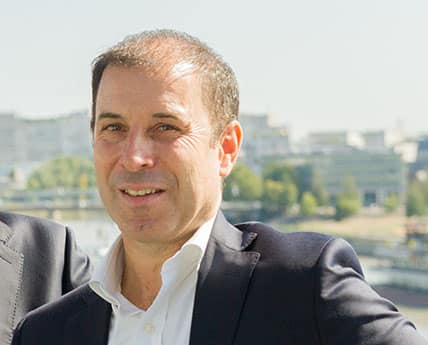 Implementation strategies are evolving in the current global climate
How implementation strategies are evolving in the current global climate
As we turn to the last quarter of the year, the global economic changes and news cycle has yet to slow down. Markets are changing dramatically. From Brexit to China, these policies will impact the global markets no matter where you are doing business. This may make many want to sit tight and hold on, especially for SMEs and Mid-Caps who need to mitigate risks. However, we see this as an opportunity to deepen your local investment even further and gain more control.
We have been doing business in the international community for nearly 30 years, and have seen many changes. When Altios started in the early 1990s the world was completely different. The Chinese economy was just starting to bud, and now it is the world's second largest market. We continued to see major players evolve such as the formation of BRIC(S) 10 years ago.
Throughout these stages we have evolved and so have our strategies. Having lived and traveled all over the globe including Europe, America and Asia, I experienced many of these developments first hand. When I joined Altios in 1999 the priorities were setting up our services in the United States, Brazil and China to enable strategic positioning in these markets. We then began exploring strategic partnerships in the global community such as our partnership with one of Europe's largest banking groups, Crédit Agricole in 2008. Through our experiences growing our own company, we have learned a lot about what is necessary to be successful and are able to draw on this to counsel our clients on developing successful global expansion strategies. In fact, the expansion of Altios is our best case studies.
As the global climate changes, so do the international business development strategies. We discussed in our last newsletter, the advent of the "Think local, act global" concept, originally "Think global, act local," reveals a fundamental change in the approach to international markets. Global implementation strategies used to be focused on finding a local partner in the country you wished to expand in to. While this is still an important step in international expansion, stopping there is no longer the best solution for most successful businesses.
Strategies are evolving from acting local with partners and shared operations to actually being local. This level of investment may take on a few different forms but comes with important benefits. Fully investing in a new country allows you to not only support and grow a local ecosystem but also to be close to the market to see and anticipate changes and opportunities. We have learned this as we built our company and we bring this agility and market intelligence to every partnership.
We believe that to succeed locally a company has to invest locally. So how do you get your business to this place, and how are these implementation strategies most effective in today's global climate? There are three key stages to international expansion and we expand on each of them:
Expand
Businesses must first understand the international economic climate and decide the best regions in which to grow depending on their industry and goals. For example, Altios will help a client identify, evaluate and select priority markets while taking a comprehensive look at the local industry including customers, key players and decision-makers. In a recent study produced for the Brazilian Footwear Industry Association, Abicalçados', expansion into France, the trade analysts said they expect to use the wealth of its results to understand the French market for years to come. Additional research can inform your business of the best entry and implementation strategies, and beyond.
Setup
Many businesses looking to begin testing a new market need to recruit local employees, representatives or professional employer organizations or PEOs. This is the best way to get on the ground quickly. Depending on the level of service or job function, Altios offers multiple solutions to clients who want local employees, but are not ready to completely set up in a new country.
Invest
Many companies begin their global expansion strategy with a local partnership and often find that this is not a viable long-term solution. For example, if you are relying solely on a partner or vendor, they may have other businesses they need to manage and may not be able to address your needs and jump into action as quickly. That is why it is most often best to invest in your own local operation and employees. This allows you to have even more local insight and resources available should you need to make changes to your business strategy, or react to the volatile changes we are currently witnessing in the global economy. We provide services all along the way of your implementation into a new country. Our local knowledge can provide the intel and best resources for setting up shop.
Once you are set up in a new country, businesses must continue to think local. One excellent example is companies looking to use local knowledge to add value to their current offering like Hanergy, a leading clean energy company. Hanergy already had an extensive international sales and technical staff when it came to us with the goal of establishing more R&D centers. A major goal of their senior management was to expand and combine other countries' strengths with their own.
Even after an initial investment, companies must be thinking about how to continue to expand business through partnerships and acquisitions. We think that we have an advantage here because we consider ourselves just that, a partner. The Altios team not only provides the tactical services needed to run day-to-day business operations, but has the company's goals and future in mind at all times.
International strategies are changing as the business world becomes more and more global and doing business becomes more and more complex. But, the effort comes with just rewards if we can align the stars. At Altios we like to say, our globalized world is an infinite source of sustainable growth if we can connect local markets, people and cultures.
Profile Patrick Ferron
Patrick Ferron is an experienced international business professional and one of the founding partners of Altios International, with expertise in cross-border operations between Europe and North America. Patrick has been helping companies expand internationally since 1994. He successively built a career in the USA, Spain, Scotland and France, working for several global advisory and business development boutiques as a consultant for the European and North American markets. Prior to that he studied at institutions around the globe including Barecelona, California Institute in International Business (San Francisco), and received a European MBA from the University of Glasgow (Strathclyde), Audencia (Nantes Management School) and Deusto (University of Bilbao). Part of Altios International board since 1999, Patrick brings his entrepreneurial and dynamic spirit to every client to overcome international challenges and to set ambitious targets. He has, notably, participated in 6 marathons worldwide.
Looking to move into new international markets?